About Us
Marcia Kirkley – Founder
Founder, Marcia Kirkley, became a certified Green Roof Professional (GRP) in 2010. She developed a new way to green roofs using watertight trays that hold inches of rain and use that rainwater to passively irrigate the plants residing above and started Green-Blue Roofs LLC. NYC Parks Department gave her a plot to try out the new design, at their green roof test site on Randall's Island. In June 2011, Marcia installed the first prototype, using trays she designed and manufactured in upstate NY. The tray and the material used to make the internal floor, are all constructed from 100% recycled HDPE plastic.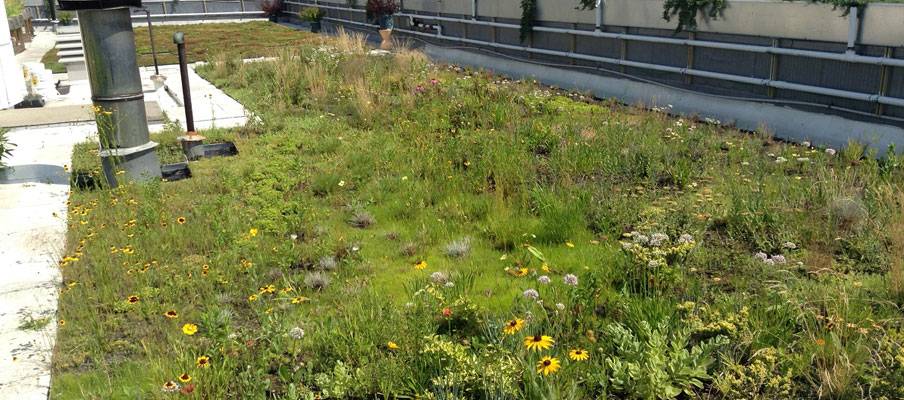 First tray prototype. Installed June 2011. (Approximately 800 square feet)
---
In 2014, NYC Parks Dept. allowed Marcia to test a new tray design on the Jackie Robinson Recreation Center in Harlem. This new design held more rainwater. Also, the trays were connected, so the water could be controlled, for example, released or used elsewhere. Below is the 1,000 square foot test plot.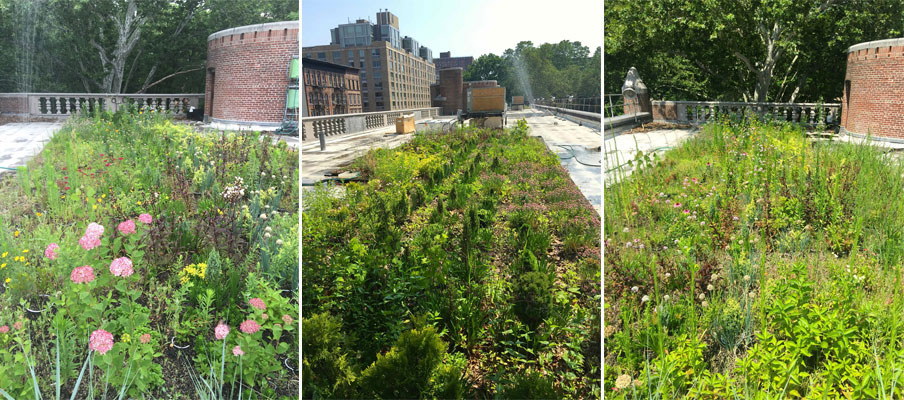 Second tray prototype. Installed June 2014. (Approximately 1,000 square feet)
---
Since the NYC Parks Department is well aware of the many benefits of green roofs, they would like to have all their suitable roofs greened, but green roofs tend not to be a funding priority, given New York City's budget constraints and existing commitments. So, Marcia asked them if she started a non-profit, would they allow the non-profit to green their roofs as wildlife habitats? They said yes, and in 2016, she founded Re-Wilding Initiative and Re-Wilding installed their first green roof in October 2017.
Over the past decade, Marcia has earned three certificates from New York Botanical Garden in Botany, Horticulture and Landscape Design. She also completed the certificate program at Columbia's Earth Institute in Conservation and Environmental Sustainability. Marcia also earned an MBA from University of Chicago in finance and previously worked at IBM and in the independent film business.
For a bit more information, here is a pitch deck that was created for Re-Wilding Initiative as a project for a class at Columbia's Earth Institute. (We had to follow a specific format).